Two types of drivers for powering high-efficiency commercial lighting products.
BP and CP Series Universal AC-DC constant current LED Drivers are compact and world-market ready, with universal input power and certifications by major testing agencies. 
The rugged BP Series are specifically designed to fit in small spaces, and include -40° cold-start, 0-10V dimming and the ability to drive a wide range of LEDs up to 6 watts. 
CP Series drivers deliver robust performance at higher wattages, with a unique and separate 12V auxiliary output for powering wireless control devices such as Bluetooth or Zigbee. This ability to act as 2 power supplies in one has limitless potential, for instance a solid state retrofit where 0-10V wiring is not in place, or some type of aftermarket control is needed at the lighting fixture.
Both have environmental and operating characteristics that can't be matched by conventional modules, making them suitable for the broadest possible range of applications.
Universal Input (100-308 VAC, 50/60Hz)

0-10V dimming w/no flicker (compatible with IEC60929:2006 – controllable ballasts)

Highly reliable, rugged construction for indoor or outdoor applications

Constant current output

Fully potted compact design meets UL IP67, highly reliable in wet locations

Meets UL/CSA and EN Product Safety requirements

3,000 Vac Isolation

Low standby (Off) power

Smooth power output promotes longer LED life

Excellent protection features with auto recovery for all conditions

Color coded flying leads for simple assembly and installation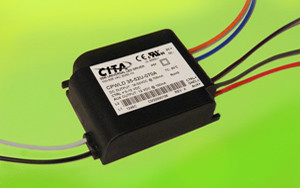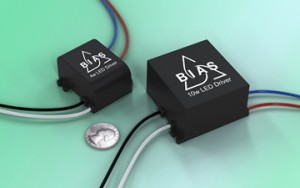 LED Drivers
Wattage
Input Voltage
Model
String Voltage
@Constant Current
Aux Output Voltage
Dimmable (0-10V IEC 60929, Annex E)
Form Factor
Data Sheet

4

10.8 - 16.2 VAC
BPOXL 4-12-035
12V @ 350mA
N/A
N/A
A
Data Sheet
100 - 308 VAC
BPWXLD 4-12U-035
3 - 12V @ 350mA
Y
Data Sheet

6

100 - 308 VAC
BPWXLD 6-21U-035
3 - 21V @ 350mA
Y
A
Data Sheet

13

100 - 305 VAC
CPWLD 13-18U-070
12 - 22 VDC @ 700mA
Y
B
Data Sheet
CPWLD 13-36U-035
12 - 42 VDC @ 350mA
CPWLD 13-xxU-yyy
Up to 1050mA
(customized to your needs)

14

100 - 305 VAC
CPWLD14-18U-070
15 - 22 VDC @ 700mA
N/A
Y
C
Data Sheet
CPWLD14-18U-070A
100mA
CPWLD14-36U-035
12 - 42 VDC @ 350mA
N/A
CPWLD14-36U-035B
200mA
CPWLD 14-xxU-yyyA/B
Up to 1050mA
(customized to your needs)
Up to 200mA

25

100 - 305 VAC
CPWLD25-36U-070
12 - 42 VDC @ 700mA
N/A
Y
C
Data Sheet
CPWLD25-56U-035
12 - 60 VDC @ 350mA
CPWLD25-xxU-yyy
Up to 1050mA
(customized to your needs)
CPWLD25-zz-000
zz=12V, 24V, 36V, 48V, 60V, or custom; up to 1050mA

35

100 - 305 VAC
CPWLD35-52U-070A
18 - 56 VDC @ 700mA
100mA
Y
D
Data Sheet
CPWLD35-56U-035B
18 - 60 VDC @ 350mA
200mA
CPWLD35-xxU-yyyA/B
Up to 1050mA
(customized to your needs)
Up to 200mA
Exclusive 4-6W BPWXL/D Driver Features:
Exclusive AOVC™ adjusts to different string voltages automatically

-40 to 85°C operating temperature with no derating

Over-current, short circuit (shorted string), overload, open circuit (string-break) protected

Up to 82% efficiency

1% current regulation and no flicker

AC line or DC load switching without overshoot on startup
Exclusive 13W -35W CPWLD LED Driver Features:
-30°C to 70°C operating temperature

AUX output up to 12VDC/200mA for smart lighting interface available

Fully-optimized design produces clean output, reducing noise and stress on components

Multiple Dimming control interface and wireless ready

Product Assurance: 5 Year Limited Warranty(see Warranty terms for more information)

Long life: MTBF >500,000 hours @50C ambient at full load
OLEDWorks Compatible Drivers