Designed to power today's most demanding wireless / IoT applications.
Very different from conventional switch-mode power supplies, the small and durable Bias Power BP constant power modules are a product designer's dream. They have the widest input and temperature ranges of their class, making them able to tolerate virtually any power line or environmental condition. The output is equally strong & won't hiccup or shut down when pushed, which means no need to over-specify/add headroom to get the performance that your circuit demands. This means you may be able to use a smaller, less costly power supply than you first thought. 
With no additional EFI/RFI suppression required in most designs, BP modules are the most cost-effective and complete, drop-in solution, ideal for today's demanding control / wireless / IoT applications.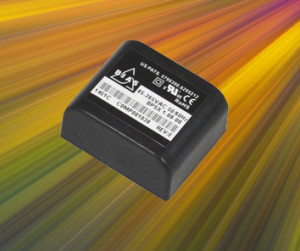 100% complete drop-in modular solution, no other engineering or sourcing required!

Ultra compact size, saves space

No de-rating over full temperature range

30mW no-load power consumption

Patented design passes FCC Part 15 / EN55022 Class B EMI / RFI without external filtering

Truly universal input voltage – "one SKU for your world" 85VAC up to 375VAC

No de-rating over entire operating temperature range (–40C to +85C)

UL recognized/CB report available

Class II (double insulated)

Dual output available with additional 3.3V or 5V for control circuitry
Constant Power Module Matrix
Output Power
Watts
Output Voltage #1 (Vo)
at Rated Power
Output Current #1 (Io)
at Rated Power, Amps
Output Current (Ir) for Voltage #2 (Vr)
If Vr= 3.3V
Output Current (Ir) for Voltage #2 (Vr)
If Vr= 5.0V
Maximum Current Io + Ir
at Rated Power, Amps
Dimensions
Available Models
(Click Links Below for Data Sheet)
VAC Input
* Custom order available
85 - 265 VAC
90 - 308 VAC
100 - 375 VAC
0.5
8
0.063
0.053
0.063
0.063
A
BPSX
BPWX
BPH
14
0.036
0.023
0.028
0.036
1
8
0.125
0.053
0.083
0.125
BPSX
BPWX
BPH
14
0.071
0.023
0.028
0.071
12*
0.083
0.023
0.028
0.083
Contact Us
Contact Us
Contact Us
16*
0.063
0.023
0.028
0.063
2
8
0.25
0.160
0.250
0.25
B
BPSX
BPWX
N/A
14
0.143
0.070
0.083
0.143
24
0.083
N/A
N/A
0.083
4
8
0.5
0.159
0.250
0.5
C
N/A
BPWX
N/A
14
0.286
0.070
0.083
0.286
24
0.167
N/A
N/A
0.167
Typical Dimensions: L x W x H : 
A: 1.08 x 0.90 x 0.55 in / 27.5 x 22.6 x 13.5mm   
B: 1.35 x 1.09 x 0.58 in / 34.3 x 27.7 x 14.7mm   
C: 1.90 x 1.31 x 0.78 in / 48.3 x 33.3 x 19.8mm

BPS and BPW Series Exclusive Application Benefits
Use the same module worldwide without changes

Excellent match for wireless, Internet of Things (IoT) and power-line carrier

Speed time to market for your product with agency approved power

Design for average load, not peak in applications with duty cycles

Ability to charge supercaps without shutdowns

"Last gasp" power-down enabling with a supercap, without a battery

Fully encapsulated, drop-in modular solution for PCB mounting