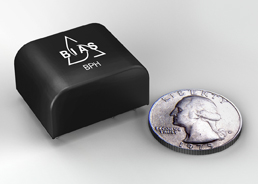 BIAS LOW-POWER BPH AC-DC MODULES
MEET CANADIAN 347VAC INPUT REQUIREMENTS IN MICRO 0.553 SIZE
MODULES, 100-375VAC, 50/60Hz, 0.5 AND 1 WATT,  REQUIRE NO EMI FILTERING
Bias Power's new  BPH series of ½ and 1 watt switching power supply modules offer the smallest drop-in solution to comply with CSA CAN3-C235-83 for Canada as well as Australia and other 347VAC mains input countries.  With an input range of 100-375VAC, the BPH series is world-market friendly.  This is a "first of its kind" product providing a "one component" solution that allows engineers to easily design a whole new class of "universal" products. A patented* circuit design, incorporating a custom ASIC, effectively eliminates line EMI, so that no external input filtering is required.
The BPH is ideal for a variety of low-power and standby mode requirements in smart building applications when operation from 277VAC and 347VAC circuits is desired.  Its unique "constant voltage/constant power" regulation from an 8 or 14VDC primary output has the ability to drive highly capacitive loads, including supercaps, as well as relays, solenoids, SSRs, indicating lights, op-amp drivers, zero-crossing detectors and RF/powerline-carrier transceivers.   Additionally, it can be a source for isolated DC utility power which may be post-regulated with a linear regulator, LDO or DC/DC converter.  Dual-output versions are also available with a secondary DC output of 3.3 or 5.0VDC to directly power microprocessors, sensors, logic functions and other elements requiring a low-ripple, tightly regulated supply.  During standby operation, the no-load power consumption is <30 mW.
Applications for the BPH series are widespread, including lighting control, energy management, HVAC/R, remote and networked smart sensors, smart utility meters, power-line carrier devices, building automation, wired and wireless control devices, sub-metering, IR receivers, audio, video, security, commercial appliances and other high-reliability low-power  applications.
Bias modules are "regulatory ready" to shorten the design cycle and time-to-market.  They have recognized safety compliance with UL/EN60950-1 2nd Edition and meet conducted EMI emissions to EN 55022, Class B and FCC Part 15, Class B without the use of external filtering.  All modules are rated for at least 3kV isolation, are protected from overload, and can be short circuited indefinitely.
BPH ½ watt and 1 watt modules measure just 1.1" x 0.92" x 0.55".  Their extremely rugged construction, rated to IP66 and full-power operating temperature from -30 to +70°C, make them well suited for harsh environment applications.  As a single-component, drop-in solution with >500,000 hours MTBF, a BPH module can greatly improve product reliability, while eliminating the need to source and inventory dozens of discrete components.
BPH Series Power Supplies are available for immediate sampling.  Link to product datasheet.